Have a look at this. This is something historic and significant for our country and region. It is the Google's Doodle for Today, 19th December, 2011 celebrating the 110th anniversary of the completion of the Kenya-Uganda Railway. On 19th December, 1901, the Kenya-Uganda Railway was completed to open the interior of East Africa to commercial exploitation and easier administration of the Britain's then East African empire. Many of us forgot these major milestones of our history as soon as we left school. In a way, much of Kenya's colonial/ pre-independent history has been swept under the frilly doilies. For many of us, the history of Kenya begins in 1963...anything beyond that is too humiliating to be remembered.
But the Kenya-Uganda Railway was a human achievement and still exists in its original form. None of the Governments in East Africa have made an effort to construct new rails or upgrade the existing rail infrastructure and am sure none of us remembered today marked the 110th anniversary of the completion of the railway. But Google remembers.
The search engine has found many ways to connect with Kenyans.
I think the Google Kenya people are doing a great job integrating Google into our daily lives.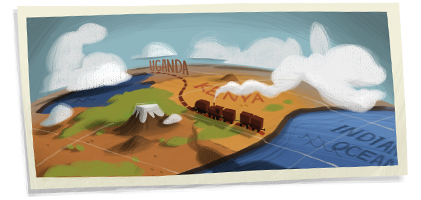 Work can be republished with attribution. Email Us africadomainnames@gmail.com